India Roto Plast takes this opportunity to introduce itself as a leading and reputed manufacturer, supplier and exporter of the latest technology and advance Rotomolding Machines, Moulds and PVC Pulveriser. We are based in Ahmedabad, for many years with our dedicated technical team of more than 65 personnel with well organized set up and modern facilities. The team comprises of specialist engineers in the rotational moulding industry. Our success is driven by the talents and skills of our team members who are highly skilled professionals with many years of experience and responsible for designing, building, installation and management of large rotational molding plants.
We offer comprehensive solutions to meet all rotational moulding requirements. Acknowledging that Rotational Moulding Machine is a growing technology but very competitive. We design all our machines with a focus on the economy, quality and durability in mind. We ensure that the roto moulders will have minimum downtime and the least loss of production. We have always strived to build machines of the highest standards with the latest technology and know-how. Our engineering team keeps customer needs at the forefront when every rotomolding machine is fabricated. We have a continuous program for design improvements to maintain our advantage and keep us at the forefront of machine technology advancements and improvements. Our Team is ready to assist you with your requirements.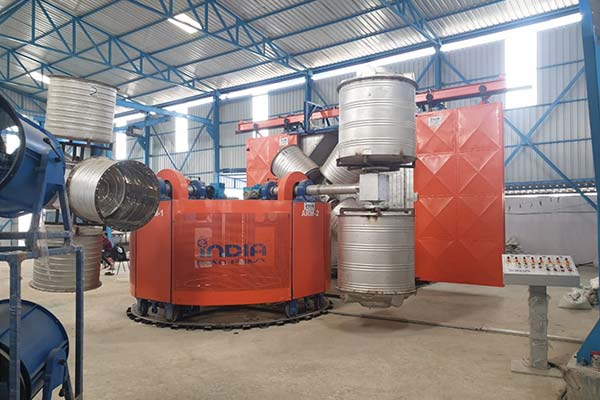 We use the most current methods to achieve the highest quality, cost-effective parts. Our on-time delivery record allows us to respond to your needs. Precision made Rotational moulding offers design advantages over other molding processes. With proper design, parts that are assembled from several pieces can be moulded as one part, eliminating seams, and creating a product of superior durability. The process also has several inherent design strengths, such as consistent wall thickness and strong outside corners that are virtually stress-free. If additional strength is required, reinforcing ribs can be designed into the part. Rotational molding Machine delivers the product the designer envisions. Designers can select the best material for their application, including materials that meet FDA requirements. Additives to help make the part weather resistant or static free can be added upon request.