The rotational moulding process is a thermoplastic method to economically fabricate various hollow plastic products, from simple to complicate. It is very well suited for the production of Water Tanks. The Water Tank Rotational Moulds manufactured, using the help of this process are very easy to install, lightweight, durable, hygienic, and can withstand UV rays for a longer period. Through Rotational Moulding Process one can ensure that the hollow part is made at one price, with no weld joints or lines.
The Water Tank Mould manufacturing process is not very complicated. Therefore, it is the most preferred method of production across global industrial segments. The first step is to mix Polyethylene material granules with granules of black colour concentrators. Further, these are extruded and strands are chopped to ensure uniform distribution of Carbon Black. Then this mixture or powder is fed into the mould in the requisite quantity. The burners of water tank rotational moulding machinery are fired and heated up to 300℃. The powder gets melted, and it forms a hollow storage tank when rotated in the heated mould.
Then, the 2nd layer of the storage water tank mould is manufactured by adding white colour Polyethylene material to the same mould. After some time, when the water tank is ready, the mould is cooled with air and the end product is removed. After the completion of this procedure, the tanks are stringently tested to make sure that it is at par with the set industry standards as well as norms.
Features of Water Tank Mould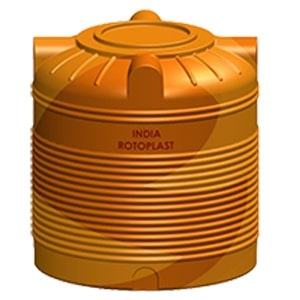 Water Tank Mould, Water Tank Mould Manufacturer, Water Tank Mould Supplier